MAPS: "Animal House with UNIX Servers"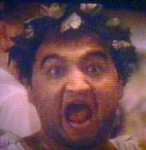 Toga! Toga! Toga! Is Delta House the role model for the MAPS staff?
That is how a former MAPS "volunteer" described the goings-on at the self-styled "grassroots" organization that routinely extorts small businesses and ISPs.
Don't believe it? We didn't either -- until we received this message on our answering machine.
Listen to how Kelly Thompson and her friends (we can only suppose their nicknames are "Flounder" and "Bluto") treat their victims when they think they're off the phone!
CLICK HERE (you must have an InternetActionPAC UserID and a RealPlayer).
---
Copyright © 2000 InternetActionPAC. All rights reserved.